Do we have a common Terminology for Digital Platforms?
In the last weeks and months I often read about Platforms, Platform-Economy, Ecosystem-Strategies and its relevance for banking and insurance. Because I love APIs and API-driven approaches and as APIs are the backbone, the DNA of every platform approach,
 I'm happy about the increased interest of Insurers and Banks in platforms and subsequently APIs.
But do we all have the same understanding of the corresponding terminology? I'm not quite sure, so I've developed the/my simplified
Digital Platform and Digital Building Block models
below.
Digital Platform Model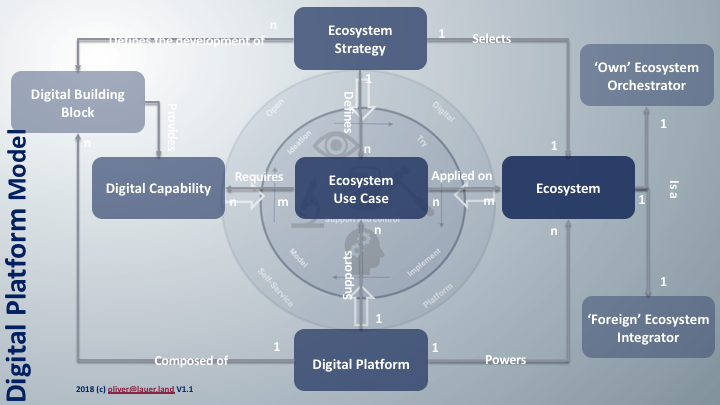 Everything starts with an
Ecosystem Strategy
. The strategy selects the Ecosystem and defines the necessary
Ecosystem Use Cases
and corresponding 
Digital Building Blocks
. A
Digital Platform
consists of Building Blocks. The Building Blocks provide 
Digital Capabilities.
The
Ecosystem
 is powered the Digital Platform. Ecosystems can have different flavors. And either it's your own ecosystem and you are the
Orchestrator.  
Or you are implementing into a 3rd party ecosystem as
Integrator.
Digital Building Block Model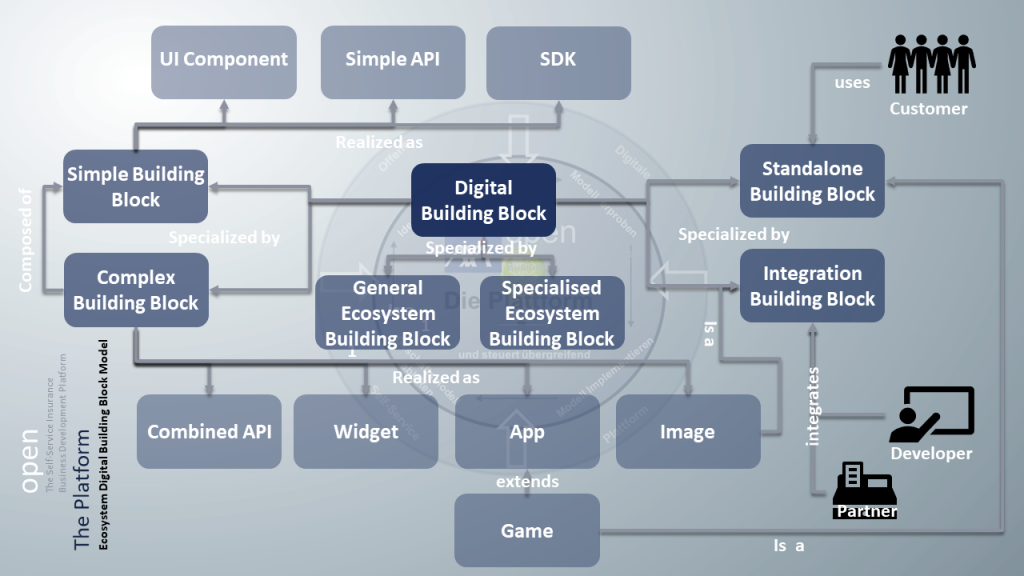 The
Digital Building Block
is the smallest unit of a Digital Platform. A Digital Platform consists of Digital Building Blocks.  A Building Block can be a
Simple or a Complex Building Block
. A complex one is orchestrated out of n simple ones. The customer uses the
Standalone Building Block 
directly. The developer and the partner integrate the 
Integration Building Block
into the ecosystem of choice.
Your View?
What do you think? How would you model the relationship of platform, ecosystem and digitalization? Happy to receiving your feedback!