48 Hours with Apple Pay
I agree: In this case I am a Late Follower, but due to some serious tasks I couldn't play around with gadgets and finance tech innovations I was used to before the last couple of months.
But because I'm longer in the Mobile Banking and Payment space than many of us here I would like to share my first 48h Apple (Watch) Pay experiences:
Apple Pay is here to stay and to win. Within the last 48 hours I could pay everything and everywhere with my Apple Pay ING combination, often at places, where the people even didn't know, that they could handle and accept Apple Pay.
For nearly 20 years I'm talking about and trying out Mobile Payment, Apple Pay with its watch is the first true one, I can now feel, what we meant years and years ago.
Sadly, but true: For all Apple Ecosystems customers and users I believe there's no much room for The Second, Apple will very likely get 'em all.
But I also believe Apple doesn't (completely) hijack the Customer Experience and Interface. In my case ING and VISA are still very visible to me (see image below – I and my watch in the bathtub 🙂 ) and I still feel I'm paying with my bank account; the superb ING Mobile App is still the necessary counterpart for my watch. This is and stays – from my perspective – the chance for all banks!
Apple will lead them into their app (I was wrong with earlier assumptions).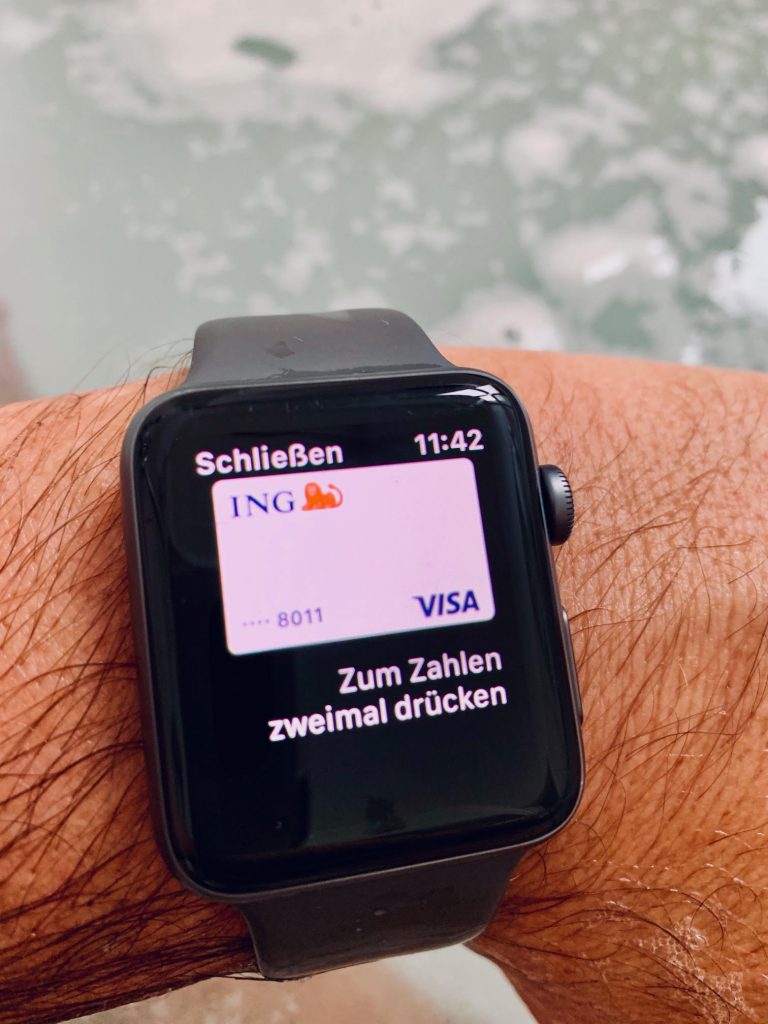 What if I once could also protect and insure via a Double Click, maybe also integrated into my Banking App and Apple Watch?
Seamlessly – Could be Customer Experience at its best.
I'm lazy I would give it a try.