The first OpenCologne meeting at AXA in Cologne was a success.  At least if one considers the No-Show-Rate of zero and the demand for participation in advance. But also from other perspectives I believe this initial meeting was a valuable one. More than 25 individuals, different  insurers, Fintechs and experts synchronized on their views on Open APIs and created interested and constructively one common understanding and definition for OpenCologne:
OpenCologne is a Self-Service and standardized, freely available B2C Insurance API controlled by the customer with Strong Customer Authentication and Consent Management provided, implemented and powered by the insurer.
My impression of these first three hours:  It's time for an Open API movement beyond banking.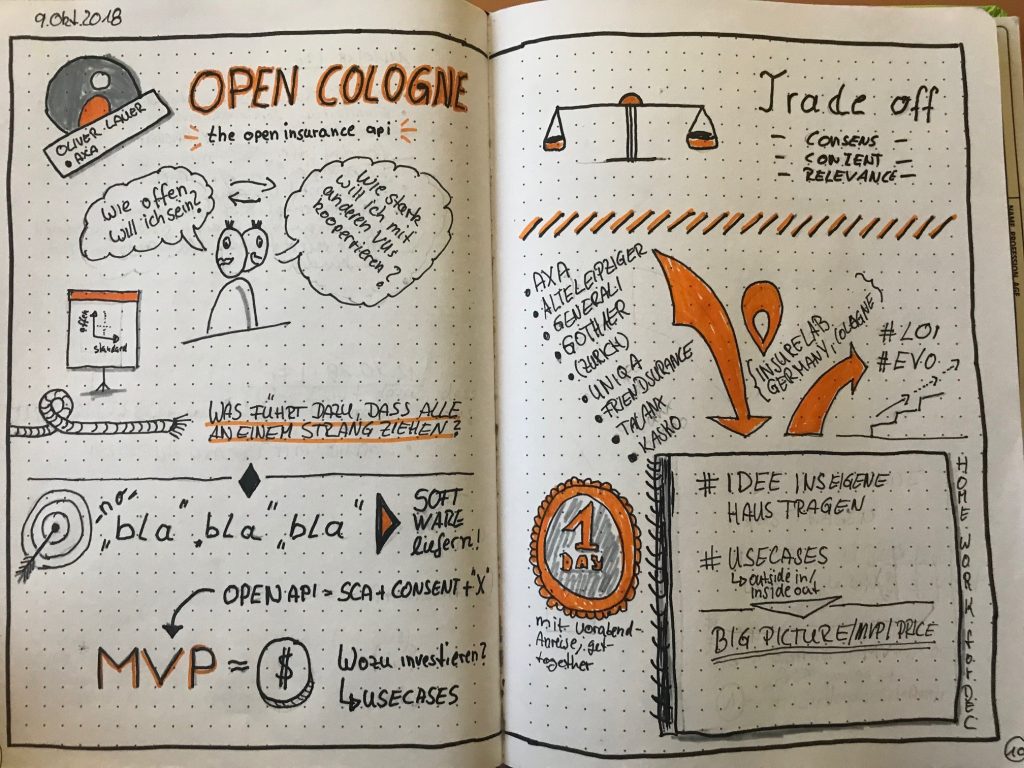 (Sketchnoting OpenCologne Results – Credits to Alexander Huth – Talanx) As one outcome this understanding now has to be communicated and synchronized internally by every participant.  Everybody clearly needs to understand: OpenCologne is an important business strategy (decision) and not just integration technology. A smaller working group of five insurers (Alte Leipziger, AXA, Generali, Gothaer, Talanx and Uniqa) and two Fintechs (Friendsurance, Kasko) has been formed and will meet end of November again at Insurlab Germany. Every member,  as a homework, has now to reflect which Business APIs from their perspective could/should be included into a technical and secured B2C OpenCologne container accompanied by corresponding and proving use cases. In the following two days in November or December we will find out if the group can identity one common set of Business APIs and  can define a 'compromise of appetite' for API openness and API standardization. Besides a first governance and operating model should be identified. Based on the  given results,  detailed in a decision template, every incumbent has then to decide if there's a base to continue and to implement OpenCologne. Hopefully end of the year we'll know if we'll continue to transforming insurance from '
Insurance to Go
' to '
Insurance to Stay
'. We'll keep you posted. Your OpenCologne Group.